MEDITERRANEAN SEAPARK, Europe's first marine theme park and resort, designed by Shramqo Inc., features immersive VR tools allowing aquarium visitors to "enter" the pools and interact with marine animals. The park will hold 32 aquariums, a dolphinarium, and a huge oceanic pool for sharks and manta rays. More than 200 species of fish, crustaceans, mollusks, and invertebrates will live in a lifelike simulated Mediterranean environment.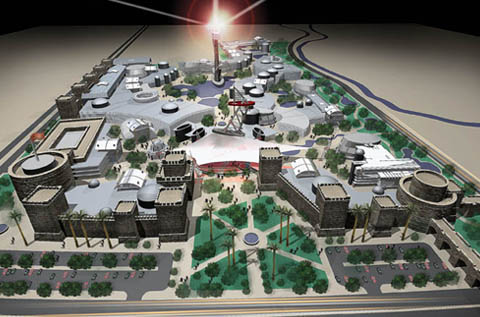 [ CLICK ON IMAGE TO ENLARGE ]
Water will be drawn from Salerno Gulf to fill the pools of MEDITERRANEAN SEAPARK. There will be no artificial rocks or plants, just sand, volcanic stones, and local flora. Two big 3-D theaters equipped with high-resolution plasma screens will play computer animations showing Mediterranean landforms in past and future ages. A transparent tunnel will cross the oceanic pool, to allow close encounters with sharks.
"Our aim is to set up a complete working ecosystem," said Lorenzo Miglioli, media project manager at Seapark Company.
A section of the park will be devoted to marine archaeology. Authentic prehistoric boats will be on display next to WWII ships. Visitors will be able observe the building of a vessel in an ancient Italian shipyard.

The Great Sea Archive, an international multimedia database, will teach the history of Mediterranean people. Experts from Italy's National Science Council's Marine Experimental Institute and from the Italian Culture Department will supervise the expositions. The reconstruction of a small Italian harbor will hold shops, restaurants, and theaters.